Is it just me? Neither Familial nor Familiar.
Last Updated on Thursday, 2 August 2012 09:56 Written by bryfy Thursday, 2 August 2012 09:55
Don't get too upset with me, these are just some personal musings on the day after the largest single gathering of Jews in over 2 millenium – Siyum HaShas, 2012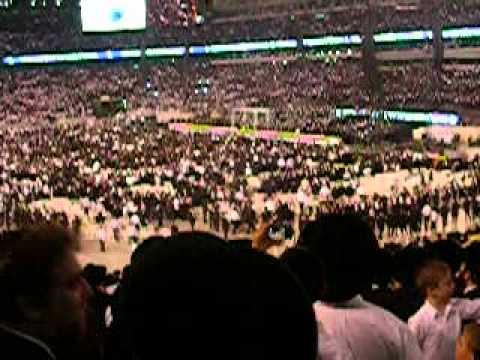 When I read all of the (Jewish) press about this event I guess I am supposed to feel proud, inspired, enthused, excited, rejuvenated – but I don't.
Does that make me a bad Jew? Does that question my commitment to the Jewish people? Does that mean that I don't really hold the strong commitment to Jewish Peoplehood that I thought i did?
From the Forward: "The promise and premise of the Daf Yomi is achdus Klal Yisroel," or unity of the Jewish people said Elly Kleinman in the evening's introductory remarks. Later in the program Lau added: "Daf HaYomi makes us one family…. Not only in friendship but in brotherhood."
Really?
I'm really not sure what to make of all this.
Perhaps I cant get past the exorbitant amount of money that people were willing to pay for tickets to the siyum. Or maybe it's the reported hundreds of thousands of dollar price tag on the mechitza's that were built in the MET Life stadium. Maybe its the fact that women were sent to the top tiers of the stadium. Maybe its the fact that I will never be able to watch football in the same light. Or maybe it's the somewhat idolization (of people and of Torah) that I have been witness to through YouTube.
Or maybe it's really that I have never been exposed to the depth and beauty of the Talmud in such a meaningful and inspiring way.
Or maybe it's my own insecurity in doubting whether I would even have been welcomed there.
All of these are totally plausible reasons for the way I am feeling this morning – especially after talking with my 17 year old intern who walked away from last night describing it as one of the most incredible experiences of his life. In his words, "it was cool to see so many Jews in one area."
Whatever the reason(s) I just can't help but feel that watching the events last night transpire (admittedly on YouTube, Facebook and Twitter) that I was an outsider looking in. An ethnographer of sorts looking at the "other."
Deep down I know that these are supposed to be my people. But what I saw last night looked anything but the familial or the familiar.
2 Comments