BBYO: Take a Bow – Jewish World: Stand Up and Take Notice
Last Updated on Tuesday, 23 February 2010 09:05 Written by bryfy Tuesday, 23 February 2010 09:05
I should start this blog entry by saying that I'm no expert on prayer. I'll leave others (including some of the Jewish ritual elitists at Jewschool – you know who you are) to debate the issues of tefillah and pluralist prayer services. What I do know is that something is wrong in the House of Prayer and it needs to be fixed. Many of the hundreds of teenagers I meet really enjoy and gain a lot from prayer services at camp, youth group or on their Israel trips. But they get back to their local synagogues and instead of being the creators, running the spirited services they are accustomed to, they're often relegated to being shushed by a bunch of Serious Men.
So when something does come around that's relevant, meaningful, forward thinking, and accessible to the masses, it deserves our attention and admiration.
I don't think that I'm making any shockwaves by suggesting that BBYO hasn't always been perceived as an organization where high quality Jewish learning takes place. That said, it's time to give credit where credit is due.
BBYO's Build a Prayer is as simple as it is is effective. It takes much of what we know about Jewish teens today and translates it into a web-based program that enables anyone to create their own Shabbat prayer service. (Similar sites are also available and/or under construction (e.g. Tagged Tanakh and Open Siddur) but none has captivated me in the same way as this one.) Even if you're not into prayer, this website can serve as a prototype for other Jewish educational ventures.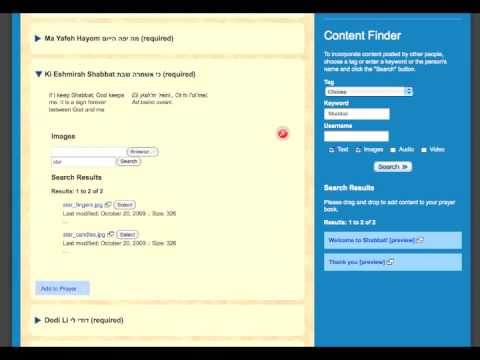 This site embodies:
Choice
Individualization based on community
Modern interpretations of Jewish tradition
A generation of teenagers who are simultaneously consumers and producers
Richness in content (albeit with additions that need to be added)
Sophisticated technology
Interactive capability
The ability to build relationships and networks
Being motivated and driven by teenage voices
Sounds just right for this generation of Jews.
All that said, I can already hear objections to this site:
What does it say about Jewish tradition if everyone can create their own prayer?
What does it say about Jewish community if we have become so individualized?
Learn More
Jewish Adolescents
Last Updated on Wednesday, 24 March 2010 07:47 Written by bryfy Saturday, 2 January 2009 06:38
The following are some resources that I recommend to better understand Jewish adolescents.
Current Trends in Jewish Teen Participation with Out-of-School Activities 3-10[1]
A Report by Michael Whitehead-Bust, commissioned by the Rose community Foundation, February, 2010
Response to Current Trends in Jewish Teen Participation 
David Bryfman, March, 2010 
Learning and Development of NFTY Teens
This is one of few studies that looks at teens involved in contemporary Jewish youth groups.
Research Findings on the Impact of Camp Ramah (Summary of Ramah Research Findings)
This is one of very few (if not the only) longitudinal studies (albeit just beginning) studies of Jewish teens.
The Impact of BBYO: Alumni Study
The Jewish Community's Guide to Understanding Teens
No other organization has invested so much in better understanding the reality of Jewish teenagers in the new millennium. This BBYO funded report, conducted by an impartial research company is an extremely valuable asset for all organizations dealing with this population.
Being a Jewish Teenager in America
A study of Jewish teens in the Boston area provides one of the more comprehensive analyses of what really matters to Jewish teens today.
It Takes a Kehillah to Make a Mensch
Jeff Kress's ecological approach provides an insightful and appealing framework for better understanding Jewish teenagers.
Engaging and Retaining Jewish Youth
Sharon Ravitch's study to to determine the needs and interest of teens in Jewish education beyond their Bar and Bat Mitzvah. Implications for educators also included in the study.
The Impact of Jewish Education
Study to determine if Jewish education makes a difference in the identity of adults aged 20, 30, and 40 and beyond and specifically what kinds of Jewish education exerts what sorts of influence and of what magnitude.
Gender and Jewish Education (URJ)
Torah at the Center, URJ, Fall, 2007
Adolescence and Religion: The Jewish Teenager in American Society
This 1965 book by Bernard Rosen is still one of the most comprehensive looks at Jewish teenagers in American society.
Learn More
Innovation
Israel
Jewish Education
Error: Twitter did not respond. Please wait a few minutes and refresh this page.